Register to Attend
Interact with your peers in a monthly morning breakfast meetup. At this monthly breakfast get-together techies, developers, designers, and entrepreneurs share learn from their peers through show and tell / show-case style presentations.
And yes, this is free! Thank our sponsors when you see them
---
Agenda for Silicon Valley TechBreakfast:
---
8:00 – 8:15 – Get yer Bagels & Coffee and chit-chat
8:15 – 8:20 – Introductions, Sponsors, Announcements
8:20 – ~9:30 – Showcases and Shout-Outs!
*** OPEN *** *** OPEN *** *** OPEN *** *** OPEN ***
~9:30 – end – Final "Shout Outs" & Last Words
---
Silicon Valley TechBreakfast Sponsors
:
---
Cresa (San Francisco | East Bay) – Cresa is a corporate real estate firm, exclusively representing tenants to deliver fully integrated real estate services. DonQuiSoft – Smart. Mobile. Solutions. WSGR – The premier provider of legal services to technology, life sciences, and growth enterprises worldwide.
Contact us if you'd like to sponsor!
---
Venue:
---
We are thrilled to be hosted at WSGR's swanky wsgr|SOMA co-working location: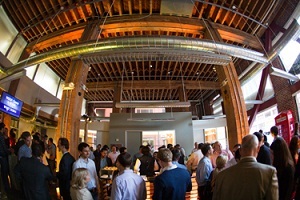 wsgr|SOMA
139 Townsend Street
Suite 150
San Francisco, California 94107
Parking & Transportation
Visitors can take Caltrain to the San Francisco Station at Fourth and King Streets, which is a five-minute walk from the firm's SOMA office. The San Francisco International Airport is approximately 25 minutes away by car.
Parking is available for a fee at garages located near the office.
---
Consent to Recording and Photography
---
By attending this event, you consent to having yourself and/or your presentation video recorded and/or photographed by the TechBreakfast organizers and/or anyone else attending. TechBreakfast retains all rights and ownership to video it produces, and attendees retain the rights to any video or photos they take on their own. You acknowledge that TechBreakfast and/or the attendees can do anything they like with this video and/or photos without your prior consent.
---
Want to present at a showcase?
---
Have something you've been working on that you'd like some feedback on? Have something that you'd like to share? Have a kernel of an idea that you'd like some thoughts on developing further?
Just submit your information at http://j.mp/techbreakfast-present and indicate where you'd like to present, and if there's a fit, we'll get you on board! Come to an upcoming event so we can meet up first.
If this one is filled up, don't despair – we want you at our next one! Sign up for that one too.
Find more events at:
If this event is full and there's a wait list, don't worry! Our wait lists regularly clear out as we get no-shows and last minute cancels. Just sign up if you plan to come! See you all there!
---
Organized and Operated By
---